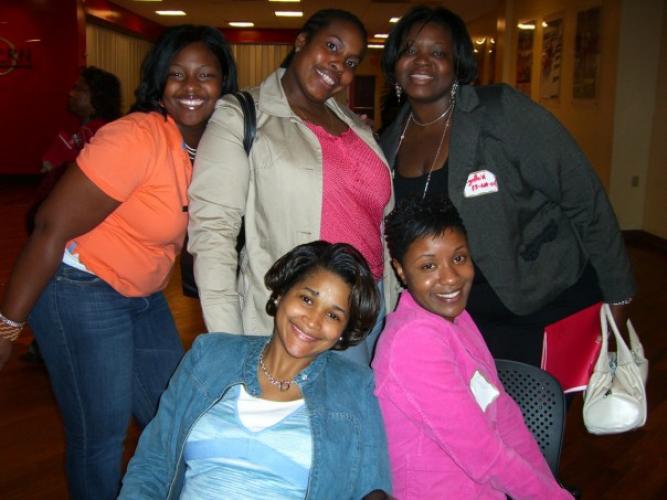 Cyn,
What can I say?! As I've conversed with our line sisters and others, we find ourselves warmed by the fond memories of our time with you. You were always a visionary and even during the most adverse circumstances, you remained faithful and determined to create a better situation.
*Remember when we were on line? And you professed to everyone that "that woman put the fear of GOOOOOOD in me!!" lol
*Remember telling everyone you were 5 minutes away...when in fact you were just rolling out of bed?
*Remember our late nights in Anderson Lab preparing programs, completing chapter work, studying (or not) and then running to the Eagles Nest for No-Doz and Coffee? *Remember Fall 2000? When we sat in your room until 7am the next day waiting on "that call"?? lol
*Remember 1/24/02?? "What is Cyn doing back there with her head?!" LOL
*Remember when we were "unofficial" roomies in 2004? "Honey I'm home!" LOL
*Remember eating Honey Bunches of Oats at 3 in the morning talking about how we wanted to change the world
*Remember our first convention in Atlanta when your truck was towed? "Father God, Release these funds right now in the name of Jesus!" LOL (U are too much)
*Remember how you convinced everyone in Philly that you were registered?? LOL
And finally, do you remember our last moments together--Convention in Orlando Summer 2008. The peace and calmess that you had regarding your place in life was so comforting and reasurring.
My beautiful sister---I am saddened that you have decided to leave us, but overjoyed in the radiance of your life! You accomplished in 27 years what takes most people a lifetime...you touched the lives of many---you unselfishly gave your all in everything---and you loved with a passion that enabled you to cross over many hurdles. But most importantly, you did unto others as you would have had them do unto you.
You are our inspiration and we love you!
Your Sister In Line & In Christ
Keesha